2021 Faculty & Guest Artists
---
ECU FACULTY ARTISTS
Keiko Sekino
Kwan Yi 
John O'Brien
GUEST ARTISTS
Michelle Cann, Curtis Institute of Music
Alexander Kobrin, Eastman School of Music, Van Cliburn Competition Gold Medalist
Matti Raekallio, The Juilliard School, Sibelius Academy (joining virtually)
Yukiko Sekino, Massachusetts Institute of Technology, New England Conservatory Preparatory School
Marc Callahan, University of North Carolina at Chapel Hill
---

Michelle Cann
Concert pianist Michelle Cann is a young artist with a deep musical commitment to performing a wide range of repertoire throughout the US and to bringing the arts to local communities. Michelle made her orchestral debut at age 14 and has since performed with various orchestras including the Florida Orchestra, the New Jersey Symphony Orchestra, the Cleveland Institute of Music Symphony Orchestra, the Memphis Symphony Orchestra and the Pennsylvania Philharmonic.  Michelle appeared as guest soloist with the Knoxville Symphony where she performed Gershwin's Rhapsody in Blue and Florence Price's Concerto in One Movement.  Recently, Michelle performed with members of the Los Angeles Philharmonic in its Green Umbrella Series at the Walt Disney Concert Hall in Los Angeles and, again, at the Barbican in London.  She regularly appears in recital and as a chamber musician throughout the US, China and South Korea at premiere concert halls including the National Center for the Performing Arts in Beijing and the Kennedy Center for the Performing Arts, and recently performed a solo recital at the Bermuda Festival on the island of Bermuda.
Michelle has been frequently featured on both WRTI 90. 1 and WHYY TV in Philadelphia on such shows as Creatively Speaking with Susan Lewis, Onstage at Curtis, and Philadelphia Music Makers where she was the host of the hour-long program which alternated between her own personal reflections and solo performances.  Michelle has also appeared as cohost/collaborative pianist with the nationally broadcasted program NPR's From The Top, appearing in Interlochen, MI with actor/conductor Damon Gupton; Boston, MA with violinist Leila Josepfowicz; and in La Jolla, CA with violinist Vijay Gupta.
In 2016, Michelle soloed with The Dream Unfinished Orchestra in New York City, an organization whose purpose is to bring to the forefront those female and minority composers too long lingering in the background of American music.  She performed the New York City premiere of Concerto in One Movement by composer Florence Price, the first African-American woman to be recognized as a symphonic composer.  Her performance was well received by the audience and press alike.  The Boston Musical Intelliger wrote "Michelle Cann…was a compelling, sparkling virtuoso, bringing this riveting work to life in its first New York performance" Recently, she performed a chamber recital with members of the Cincinnati Symphony Orchestra as their MAC Music Innovator.  This program highlights leading African American classical musicians who embody artistry, innovation and a commitment to education and community engagement.
In May, 2020, Michelle was scheduled for a solo performance with the New York Youth Symphony Orchestra in Carnegie Hall's Stern Auditorium prior to the Covid-19 outbreak.  In January 2021, she will perform Florence Price's Concerto In One Movement with the Philadelphia Orchestra.
Hailing from a musical family in Avon Park, Florida, Michelle began the piano at age 7, but soon added organ, steel drums, trombone, tuba and violin. Her primary focus on the piano earned her top prizes in state, national and international competitions including the International Russian Piano Music Competition, the Blount Young Artists National Competition and most recently the Wideman International Piano Competition. Michelle received her Bachelor and Master degrees in piano performance from the Cleveland Institute of Music studying with Paul Schenly and Daniel Shapiro and received an Artist Diploma from the Curtis Institute of Music in Philadelphia studying with Robert McDonald. Currently, Michelle holds the inaugural Eleanor Sokoloff Chair in piano studies at Curtis.  Her summer festival appearances include the Taos Chamber Music Festival, YellowBarn Chamber Music Festival, Perlman Music Program Chamber Music Festival, Artist in Residence at Pianofest in the Hamptons and member of the piano faculty at the Luzerne Music Center in Lake Luzerne, NY.  Most recently, Michelle served on the faculty of Sphinx Performance Academy during their inaugural year at the Julliard School and also performed in the Sphinx Symphony Orchestra during the 23rd annual Sphinx Competition.
Michelle is a young leader in creating opportunities for music education in her community. During her time in Philadelphia, she has served as the choir director of two thirty-member children choruses in the El-Sistema inspired program, "Play On Philly".  She served as one of three Curtis Institute of Music inaugural fellows of ArtistYear. Through that one year fellowship, Michelle worked with local community partners such as City Year, Teach for America and AmeriCorps to bring the arts to local Philadelphia communities where arts education and access are unattainable.
---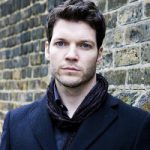 Marc Callahan
Marc Callahan, bass baritone, holds degrees from Oberlin College, CCM, the École Normale de Musique de Paris and the Schola Cantorum. His performance career has taken him around the world, singing at opera houses such as: The Royal Opera House, Santa Fe Opera, Théâtre des Champs Elysées, Théâtre du Capitole, Opéra National de Lyon, Opéra de Montpellier, Opéra Comique, Théâtre Royale de Versailles, Opéra de Marseille, and others. Opera magazine has reviewed him as "a powerful baritone, providing wickedly glamorous tone."
As a director and designer, Marc Callahan has received critical acclaim for his production of Jean-Philippe Rameau's Les Indes Galantes, saying it was "designed and directed with jaw-dropping invention" and was awarded first prize for his production of Kurt Weill's Der Jasager from the National Opera Association and was a national winner Honorable Mention for the Charles C. Reilly Director's Prize. He has worked on productions at the Royal Opera House, the Aldeburgh Festival, the Holland Festival, Scottish Opera, Miami Music Festival, the New World Center, Théâtre du Châtelet, and the Théâtre du Capitole. Recent productions include: The Marriage of Figaro, Cendrillon, and The Blue Forest, Help, Help, the Globolinks!, Der Jasager, Lohengrin, Alcina, ATLAS, Die Walküre, Il sogno di Scipione, and L'incoronazione di Poppea ("…devising a brilliant production of remarkable dramatic intimacy.").
He is currently on the faculty at UNC-Chapel Hill as an Assistant Professor of Music.
---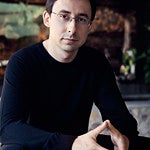 Alexander Kobrin
Called the "Van Cliburn of today" by the BBC, pianist Alexander Kobrin has placed himself at the forefront of today's performing musicians. His prize winning performances have been praised for their brilliant technique, musicality, and emotional engagement with the audience. The New York Times has written that Mr. Kobrin was a "fastidious guide" to Schumann's "otherworldly visions, pointing out hunters, flowers, haunted corners and friendly bowers, all captured in richly characterized vignettes." "This was a performance that will be revered and remembered as a landmark of the regeneration of exceptional classical music in Central New York."-critic wrote after Mr. Kobrin's performance of Second Piano Concerto by Johannes Brahms with Syracuse Symphony in Syracuse,NY.
In 2005, Mr. Kobrin was awarded the Nancy Lee and Perry R. Bass Gold Medal at the Twelfth Van Cliburn International Piano Competition in Fort Worth, TX. His numerous successes in competitions also include top prizes at the Busoni International Piano Competition (First Prize), Hamamatsu International Piano Competition (Top Prize), Scottish International Piano Competition in Glasgow (First Prize)
Mr. Kobrin has performed with many of the world's great orchestras including the New York Philharmonic, Tokyo Philharmonic, Russian National Orchestra, Belgrade Philharmonic, English Chamber Orchestra, Orchestra Verdi, Orchestre de la Suisse Romande, Moscow Philharmonic, Royal Liverpool Philharmonic, Dallas Symphony, Berliner Symphony, Chicago Sinfonietta, Swedish Radio Symphony, Birmingham Symphony, Warsaw Philharmonic and the BBC Symphony Orchestra. He has collaborated with such conductors as Mikhail Pletnev, Mikhail Jurovsky, Mark Elder, Vassiliy Sinaisky, James Conlon, Claus Peter Flor, Alexander Lazarev, Vassiliy Petrenko and Yuri Bashmet.
He has appeared in recital at major halls worldwide, including Carnegie Zankel Hall and Avery Fisher Hall in New York, the Kennedy Centre in Washington, Albert Hall and Wigmore Hall in London, Louvre Auditorium,Salle Gaveau and Salle Cortot in Paris, Munich Herkulesaal and Berliner Filarmonia Hall in Germany, the Great Hall of the Moscow Conservatoire, Sheung Wan Civic Centre in Hong Kong, as well as Sala Verdi in Milan and many others. Other past performances have included recitals at Bass Hall for the Cliburn Series, the Washington Performing Arts Society, La Roque d'Antheron, the Ravinia Festival, the Beethoven Easter Festival, Busoni Festival , the renowned Klavier-Festival Ruhr, the Festival Musique dans le Grésivaudan ,the International Keyboard Institute & Festival, annual concert tours in Japan, China and Taiwan.
Though widely acclaimed as a performer, Mr. Kobrin's teaching has been an inspiration to many students through his passion for music. From 2003 to 2010 he served on the faculty of the Russian State Gnessin's Academy of Music. In 2010 Alexander Kobrin was named the L. Rexford Distinguished Chair in Piano at the Schwob School of Music at Columbus State University, and since 2013 until 2017 has been a member of the celebrated Artist Faculty of New York University's Steinhardt School. In July 2017, Mr.Kobrin has joined the faculty of the renowned Eastman School of Music in Rochster,NY. Mr. Kobrin has also given masterclasses in Europe and Asia, the International Piano Series and at the Conservatories of Japan and China.
Mr. Kobrin has been a jury member for many international piano competitions, including the Busoni International Piano Competition in Bolzano,Hamamatsu International Piano Competion, the Blüthner International Piano Competition in Vienna, E-Competition in Fairbanks, AK and the Neuhaus International Piano Festival in Moscow.
Mr. Kobrin has released recordings on the Harmonia Mundi, Quartz, and Centaur labels, covering a wide swath of the piano literature. His Schumann album,released on Centaur Records has been included into top-5 albums of the year in 2015 by Fanfare Magazine. Gramophone Magazine raved about his Cliburn Competition release on Harmonia Mundi, writing that "in [Rachmaninoff's] Second Sonata (played in the 1931 revision), despite fire-storms of virtuosity, there is always room for everything to tell and Kobrin achieves a hypnotic sense of the music's dark necromancy."
Mr. Kobrin was born in 1980 in Moscow. At the age of five, he was enrolled in the world-famous Gnessin Special School of Music after which he attended the prestigious Moscow Tchaikovsky Conservatoire. His teachers have included renowned professors Tatiana Zelikman and Lev Naumov.
---

John O'Brien
John O'Brien was born into a musical family. He studied piano with his father from the age of five until graduating from high school.While in high school he also studied violin, flute, and later harp and spent many hours playing string quartets with his three younger brothers. He began his undergraduate studies as a double major in violin and piano performance studying violin with Robert Gerle and piano with William Masselos.He continued his college piano studies with John Perry.In 1989 Dr. O'Brien was awarded the DMA in accompanying from the University of Southern California. There he studied with Gwendolyn Koldofsy and Jean Barr.While at USC he also studied organ with Cherry Rhodes and harpsichord with Malcolm Hamilton.Dr. O'Brien has been on the faculty of East Carolina University since 1985.He has been the Professor of Accompanying, Chairperson of the Department of Vocal Studies and Director of the ECU Opera Theatre. Dr. O'Brien has collaborated with such artists as Metropolitan Opera stars Hilda Harris and Victoria Livengood, violinist Eliot Chapo, tenor Bill Brown, soprano Louise Toppin, flautist Carol Wincence, and clarinetist Deborah Chodacki. He has performed in New York's Merkin Recital Hall, Weill Recital Hall, and at the Istanbul Festival with cellist Selma Gokcen. As keyboardist he performs regularly with Atlanta Baroque, Clarino Consort and Baroque dance soloist Paige Whitley-Bauguess. He has performed recitals with soprano Julianne Bairdand baroque violinist Julie Andrijeski, (Apollo's Fire).He was a featured artist at the 2005, 2006, 2008, 2010 and 2012 Magnolia Baroque Festival in Winston-Salem NC and he has performed several times at the Piccolo Spoleto Festival with Chatham Baroque.Dr. O'Brien is Organist/Choirmaster at First Presbyterian Church in Kinston NC and he is the conductor of the Eastern Youth Orchestra.It is interesting to note that of all the wonderful musicians Dr. O'Brien has played with the most famous musician he can claim association with is a former EYO student—Grammy winning andPulitzer Prize winning composer Caroline Shaw.
Dr. O'Brien's home, The Music House, is a Victorian home — one of the oldest in Greenville — which has been meticulously preserved and decorated in period style. On the National Register of Historic Places it was built in 1902 by Jesse Moye.The Music House serves as a unique venue in Eastern North Carolina for approximately forty varied concerts per year.
Dr. O'Brien owns three pianos, a fortepiano, a harpsichord, three pump organs and two pipe organs.His Victorian Model "C" 8-foot "Small Concert Grand" Steinway was built in 1887. It was used as the performance instrument at Steinway hall in NYC until it was sold in 1904. The piano has undergone a complete restoration and now resides in his music room where it is used for practice and concerts.
---

Matti Raekallio
Pianist Matti Raekallio was born 1954 in Helsinki. He studied in his home country as well as with Maria Curcio in London, with Dieter Weber at the Vienna Academy of Music, and at the Leningrad (now St. Petersburg) Conservatory in Russia.
Raekallio made his American debut in 1981 at Carnegie's Weill Recital Hall. In his concerts, he has performed cycles of the complete piano Sonatas of Beethoven, Scriabin, and Prokofiev, as well as altogether 62 piano concertos. He has recorded about 20 albums, including an acclaimed set of the complete Prokofiev Sonatas. He first taught for 30 years at the Sibelius Academy in Helsinki while also temporarily working as professor in Kungliga Musikhögskolan in Stockholm and at Western Michigan University. In 2005, Raekallio became professor of the Hochschule für Musik, Theater und Medien in Hannover, Germany. Two years later, in 2007, he was invited to join the faculty at Juilliard. He has held a part-time professorship at Bard College Conservatory and also holds a part-time professorship at Oberlin College Conservatory. His students include several first prize winners in major international competitions. He serves as an adjudicator and teaches master classes in the U.S., Europe, and Asia. Raekallio's doctorate (Dr. Mus.) from the Sibelius Academy focused of the history of piano fingering. Subsequently, Raekallio became a member of an international research team, investigating pianists' fingering choices from the viewpoint of cognitive psychology.
Raekallio received the Leonie Sonning Foundation Grant (Denmark) in 1980, and was recipient of the five-year artist grant from the state of Finland three times. He served for three years (1998-2000) as a member of the Finnish Academy's Council for Research of Culture and Society. In 2009, he received an honorary doctorate from the Estonian Academy of Music.
---

Keiko Sekino
Pianist Keiko Sekino enjoys an active career as a solo recitalist and chamber musician in the United States and abroad, having performed at such venues as Carnegie Weill Recital Hall, Steinway Hall, Bennett-Gordon Hall at Ravinia Park, and Palacio de Festivales de Cantabria in Santander, Spain. She has participated in festivals including Ravinia, Norfolk, and Yellow Barn in the United States and Kuhmo, Encuentro de Música y Academia de Santander, La Gesse, and Pontino in Europe.
In 2006, Keiko Sekino was one of four pianists invited to participate in the Carnegie Hall Professional Workshop with Thomas Quasthoff. As a duo with soprano Awet Andemicael, she worked with baritone Thomas Quasthoff and pianist Justus Zeyen on Lieder by Schubert, Wolf, and Strauss in public masterclasses and was presented in a recital at the Weill Recital Hall at Carnegie Hall. Her performances have also been featured on WFMT (Chicago)'s From Ravinia's Steans Music Institute series and on WDAV (Davidson, North Carolina).
An accomplished chamber musician, Ms. Sekino has shared the stage with violinists Ana Chumachenko and MinJung Kang, and members of the Boston Symphony Orchestra, North Carolina Symphony, Daedalus Quartet, and Enso Quartet. In 2016, her recording of Schumann's complete works for cello and piano with cellist Emanuel Gruber was released from Delos label.
Keiko Sekino completed a Doctor of Musical Arts degree at the Peabody Conservatory of the Johns Hopkins University and holds additional degrees from Yale University in economics and music. Among her teachers are Peter Frankl and Robert McDonald. She has also worked closely with Elisso Virsaladze, Claude Frank, Boris Berman, and Margo Garrett. She serves as Associate Professor of Piano and Director of Applied Piano Studies at the East Carolina University School of Music.
---

Yukiko Sekino
Praised for her "thrilling, inspirational performance" (Florida Sun-Sentinel) and "elegance of line, leaping energy" (San Jose Mercury News), pianist Yukiko Sekino has forged a career that encompasses a wide range of interests. A soloist noted for her performances of Beethoven, Rachmaninoff, and Scriabin, she frequently collaborates in chamber music and performs some of the most challenging twentieth and twenty-first century works.
Sekino is the Gold Medalist of the 2006 International Russian Music Piano Competition and a 2010 winner of the S&R Foundation's Washington Award. She made a debut with the Boston Symphony Orchestra at age sixteen, and has since performed with the New World Symphony, Harvard-Radcliffe Orchestra, and Stony Brook Symphony Orchestra. Recent recitals include those at the Overtures Series in Washington, D.C., Dame Myra Hess Concerts in Chicago, Hitomi Memorial Hall in Tokyo, Japan, Northeast Asia International Piano Festival in China. She has given masterclasses in the United States and China.
Between 2005 and 2008, she was a resident pianist of the New World Symphony under the direction of Michael Tilson Thomas. In 2013, she performed as a soloist in Elliott Carter's Double Concerto for Piano and Harpsichordat Carnegie Hall's Zankel Hall in culmination of Weill Institute Professional Training Workshop with John Adams and David Robertson.
Sekino is a graduate of Harvard University and the Juilliard School, and holds a doctoral degree from State University of New York at Stony Brook. Her teachers include Gilbert Kalish, Seymour Lipkin, Robert Levin, and Eda Shlyam. She previously taught at Colby College, and currently teaches piano at Massachusetts Institute of Technology and the New England Conservatory Prep School.
---

Kwan Yi
Pianist Kwan Yi has performed throughout the United States, Europe, and Asia in such venues as Carnegie Hall, Lincoln Center, Kimmel Center, Kennedy Center, Chicago Symphony Center, Mann Performing Arts Center, Wolf Trap National Park for the Performing Arts, Library of Congress, Metropolitan and Isabella Stewart Gardner Museums, Großer Sendesaal des Hessischen Rundfunks, Auditorium du Louvre, Suntory Hall, and Seoul Arts Center. 
Yi has appeared as a soloist with the Russian National Orchestra, Houston Symphony Orchestra, and the Brevard Festival Orchestra under the batons of Hans Graf, Julian Kuerti, and Mikhail Tartanikov. As a recitalist and masterclass instructor, he has completed residencies at Bowling Green State University, University of Georgia, and Michigan State University. As a chamber musician, he has collaborated with Itzhak Perlman, Miriam Fried, and Roberto Diaz on national tours and was invited to perform at the Kronberg, Ravinia, Trondheim, and the Mecklenburg-Vorpommern Festivals and Carnegie Hall Presents, Curtis Presents, CIM Mixon Hall Masters, and Peoples' Symphony Concert Series. He has recorded for FHR and Hänssler labels with violinist Itamar Zorman.  
A recipient of many honors and prizes, Yi's awards include Mieczyslaw Munz Prize, National Federation of Music Clubs Award, and prizes in the Sendai International Piano Competition. 
Yi is a graduate of the Curtis Institute, Juilliard School and the Peabody Institute where he worked with Leon Fleisher and Robert McDonald. He currently serves as assistant professor of piano at the ECU School of Music.