East Carolina University School of Music Friends of Jazz
---
Welcome to the ECU School of Music Friends of Jazz!
In Memoriam: "Tom the Jazzman" (1940-2015) President, ECU School of Music Friends of Jazz, 2008-2015; Past President, 2015; and Edward Wheatley (1936-2018), Founder and Past President, ECU School of Music Friends of Jazz 2008-2015
Our purpose is to improve awareness of and financial support for the School of Music Jazz Studies Program. We invite you to join us.

Officers:
President: Will Corbitt
Vice-President: position vacant
Secretary: Betty Wheatley
Director of the School of Music: Christopher Ulffers
Interim Director of the Jazz Studies Program: Jeff Bair
Past President In Memoriam: Tom Mallison
Jazz Studies program (Faculty, Upcoming Jazz Events, Jazz Ensembles, Jazz Degree, Audition Information, Guest Artists)
Listen to the ECU Jazz Ensemble "A"!
---
Jazz Events at East Carolina University
Concerts, recitals by Jazz Studies majors and other students in jazz combos are listed in the School of Music events calendar. To verify School of Music events, please call 252-328-6851.
Gallery
Dedication of Billy Taylor mural at Whirligig Stage, June 14, 2019

Tom the Jazzman Scholarship Benefit, April 11, 2019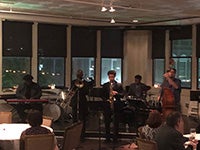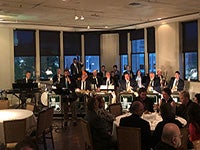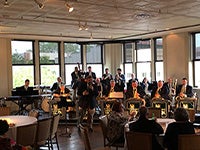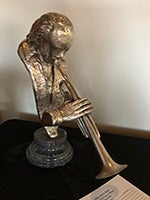 Image: Late-night session of ECU jazz students.