East Carolina Piano Festival Competition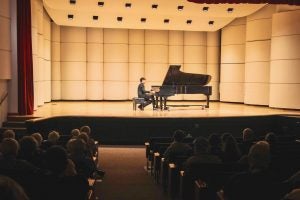 The 2023 ECPF Competition takes place as part of the East Carolina University Piano Festival Young Artist Program.
ELIGIBILITY: Contestants must be registered participants of the 2023 East Carolina Piano Festival Young Artist Program.
DIVISIONS:
Junior (aged 17 and younger as of 7/1/23)
Senior (aged 18 and up as of 7/1/23)
PRIZES:
Concerto Prize will be awarded to one of the division first prize winners. The Concerto Prize winner will perform a complete concerto with the Long Bay Symphony (Myrtle Beach, South Carolina) in their masterworks concert series during the 2024/2025 season. Other engagement opportunities for all prize winners are at the discretion of the program director of the East Carolina Piano Festival.
First prize winners from each division will be awarded FULL tuition scholarship toward 2024 ECPF.
REPERTOIRE REQUIREMENTS:
A fast movement of a standard concerto for piano and orchestra (complete concerto in case of one movement works). Please refer to the list of approved concerti below.


AND

A work for solo piano (individual movements of larger works are allowed)
COMPETITION RULES:
All performances must be from memory.

A contestant may be interrupted during the performance to accommodate the maximum allotted time of 30 minutes. 

Current students of the judges are not allowed to enter the competition.

Contestants and their parents and teachers may not make contact with the judges until after the competition.

Performances during the competition may be recorded. By submitting the application form the contestant agrees that the director of the competition may use these recordings in future media broadcasts or in advertising for the competition without compensation to the contestant.

All contestants must use the official festival accompanist.

The East Carolina Festival Competition reserves the right not to award prizes.

All judges' decisions are final.
LIST OF APPROVED CONCERTI*:
BEETHOVEN Concerto No. 1 in C Major, Op. 15
BEETHOVEN Concerto No. 2 in B-flat Major, Op. 19
BEETHOVEN Concerto No. 3 in C Minor, Op. 37
BEETHOVEN Concerto No. 4 in G Major, Op. 58
BEETHOVEN Concerto No. 5 in E-flat Major, Op. 73
BRAHMS Concerto No. 1 in D Minor, Op. 15
CHOPIN Concerto No. 1 in E Minor, Op. 11
CHOPIN Concerto No. 2 in F Minor, Op. 21
FRANCK Symphonic Variations, M.46
GERSHWIN Concerto in F (1925)
GRIEG Concerto in A minor, Op. 16
LISZT Concerto No. 1 in E-flat Major, S. 124
LISZT Concerto No. 2 in A Major, S. 125
MENDELSSOHN, Concerto in G Minor, Op. 25
MOZART Concerto No. 9 in E-flat Major, K. 271
MOZART Concerto No. 17 in G Major, K. 453
MOZART Concerto No. 20 in D Minor, K. 466
MOZART Concerto No. 23 in A Major, K. 488
MOZART Concerto No. 24 in C Minor, K. 491
MOZART Concerto No. 25 in C Major, K. 503
PROKOFIEV Concerto No. 1 in D-flat Major, Op. 10
RACHMANINOFF Concerto No. 3 in D Minor, Op. 30
SAINT-SAENS Concerto No. 2 in G Minor, Op. 22
SHOSTAKOVICH Concerto No. 1 in C Minor, Op. 35
SHOSTAKOVICH Concerto No. 2 in F Major, Op. 102
SCHUMANN Concerto in A Minor, Op. 54
TCHAIKOVSKY Concerto No. 1 in B-flat Minor, Op. 23
*Concerto not on this list must be approved by Mr. Kwan Yi (yik17@ecu.edu)