Distinguished Professors of Organ
---
East Carolina University School of Music continues its commitment to excellence and creativity in organ performance and sacred music studies with the appointment of the 2006-2007 Robert L. Jones Distinguished Professors of Music.
Professors Ludger Lohmann and Dame Gillian, who will join the ECU faculty in a year marked by extraordinary concerts, recitals and master classes, centered around the recently inaugurated C.B. Fisk, Opus 126.
---

Professor Ludger Lohmann
Professor for organ at Staatliche Hochschule für Musik und Darstellende Kunst, Stuttgart. Master classes and recitals with a special focus upon the music of the J .S. Bach, the North German school and German Romanticism will be presented throughout his residencies.
---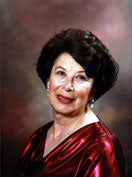 Dame Gillian
Dame Gillian is one of the world's most acclaimed concert organists, recording artist and teachers. Dame Weir will present recitals and master classes with special focus upon the music of French Romantic and Modern Schools throughout her residencies.
---
Jones Distinguished Professorship Residency Preview
Events open to the Public
---
Ludger Lohmann Residency:
Residency I:  September 11- 30, 2006 || Residency II: November 6-19, 2006
Repertoire to be covered:
Early music of varying national schools, ending with J.S. Bach, with special emphasis on the Chorales of the Leipzig Manuscript
German Romantic: Mendelssohn, Brahms, Schumann, Mozart,  Reger, Liszt
Friday Seminars: contact department for times
Location:
St. Paul's Episcopal Church,  401 East Fourth Street, Greenville or other location to be announced
Schedule:
Sept. 22

Baroque Performance Practice Seminar:  Articulation in early music
Recital 7:30 pm

Sept. 23

Public master class 9 am – 5 pm

Nov. 17

Registration in German Romantic Music with a special focus on Mendelssohn, Brahms, Liszt and Reger
Recital  7:30 pm

Nov. 18

Public master class 9 am – 5 pm
---
Gillian Weir Residency:
Residency I: January 22-February 9, 2007 || Residency II: March 21-April 5
Music to be covered:
Organ works of Franck, the French Symphonic School and Messiaen as well as French Classical and music of J.S. Bach.
Schedule:
Jan. 25 – 27: Religious Arts Festival
Jan. 26: Recital  7:30 pm
Jan. 27:  Master class for Festival Attendees
March 23: The organ works of Olivier Messiaen; Recital 7:30 pm
March 24: Public master class  9 am – 5 pm