The Annual Young Artists Competition in Organ Performance
---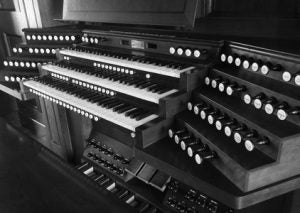 Annual Organ Competition
March 2, 2024

The 14th Annual East Carolina University Young Artists Competition for Pre-College Organists will be held on Saturday, March 2, 2024 on the Fisk, Op. 126, at St. Paul's Episcopal Church in Greenville, NC. We are excited to announce that the jury will be chaired by international concert artist Ken Cowan. Mr. Cowan will also give the Fifth Annual Cathee Jean Huber Memorial Concert on Friday, March 1, at 7.30pm. 
The competition is an innovative outreach program designed to inspire young musicians to strive for the highest level of artistry in organ performance, and offers the opportunity to perform publicly for a live audience in a welcoming and supportive atmosphere. The competition is open to any pre-college organ student in the United States. 
Following submission of recordings, three competitors will be invited to Greenville to perform for the public final round on the St. Paul's Fisk. Prizes are awarded immediately following the round. 
The 2024 competition introduces an audience prize ($100) where the audience is given the opportunity to vote for the player whose performance they most enjoyed; this should inform program construction for the final round. 
Following the competition Mr. Cowan will present a masterclass. This is also open to the public, and competitors are warmly encouraged (though not required) to participate. 
Dr. David Baskeyfield, Professor of Organ and Sacred Music, is also delighted to offer private coaching to competitors following the competition. 
Applications should be received by January 31, 2024. For information on the competition and application procedure, email baskeyfieldd23@ecu.edu 
View Organ Specification (PDF file) 
---
Official Organ Competition Rules
Eligibility: The competition is open to pre-college students aged of 13-18 as of the application deadline, who are residents of the United States of America.


Application Procedure and Repertoire Requirements: Competitors must submit the application in two parts: 1. Download, print, and complete the application form and mail/email it to the address indicated along with the application fee. 2. Email a link (either Dropbox or Google Drive) to your recorded entry (repertoire described below). The recordings must contain no speaking, and each piece must be continuous and unedited. The application will not be processed until the fee has been received. 

Complete Applications must be received by January 31, 2024. Early applications are encouraged. Finalists will be notified by February 3. 

Required repertoire for the recorded round:

1. One work by J. S. Bach.

2. One piece composed after 1840.

Final Round:

Applicant's free choice of repertoire to present a recital not more than forty (40) minutes in length, The program must include a work by J. S. Bach. Repertoire from the recorded round may be included but is not required. In constructing the program, competitors should aim to demonstrate the fullest range of their musicianship, as regards both technique and interpretation. For this public round, consideration will be given to program construction. The applicant will also play a hymn, of his or her choice. This may be played at any point during the program. 

Applicants are strongly encouraged to contact Dr. David Baskeyfield to discuss programming. 

Not more than three persons will be chosen for live competition. Each will receive an equal amount of practice time. A page turner will be available during the performances. Teachers or others accompanying the competitor may help with registration during practice time; however, the competitor must manage his or her own registration during the performance without assistance. The preliminary recording round will be judged by David Baskeyfield. The live round will be judged by Ken Cowan (chair), and David Baskeyfield. Judges are not screened. Judges' comments will be given to each competitor for both rounds. Performers must use legal scores. The judge's decisions will be final. The competition will be open to the public. 

Awards:

First prize: The Cathee Jean Huber Memorial Prize, sponsored by East Carolina Musical Arts Education Foundation. $1,500

Second Prize: The Fisk Prize, sponsored by C.B. Fisk, Inc., Organ builders. $750 Third prize: The American Guild of Organists Prize, sponsored by the Eastern Carolina Chapter of the AGO. $300 The Bach Prize: recognizing the outstanding performance of a work by Johann Sebastian Bach. $100 The Hymn Playing Prize: recognizing the day's most outstanding hymn playing. $100 Audience Prize: recognizing the performance the audience most enjoys. $100