Guest Artists & Clinicians in Percussion
---
In addition to the wide range of ensemble opportunities and private lessons available to all ECU percussion students, we often bring in internationally respected artists to perform and work with our students. Listed below are some of the musicians who have joined our faculty as visiting artist/teachers and to perform with our ensembles.
---
John Ferrari, percussionist with Meridian Arts Ensemble presented a masterclass to ECU percussion students.
Paul Fadoul, contemporary percussionist and member of the touring duo, "Lawler and Fadoul" presented a marimba masterclass to ECU percussion students.
Mr. John Beck of UNC School of the Arts presented a clinic on hand drumming and drum circle facilitation.
Percussion section techniques clinic with Jonathan Bisesi, percussionist with the US Marine Band, "The President's Own."
Dr. Joey Van Hassell – Lecture performance of contemporary percussion techniques and analysis of modern literature for percussion.
Dr. J.B. Smith, professor of percussion at Arizona State U. presented a masterclass on "Improving Rhythmic Accuracy Through Technology."
Dr. Scott Pollard presented a clinic "Preparing for an Orchestral Audition."
Dr. Andy Harnsberger – Performed a marimba recital of original and classic marimba literature and presented a masterclass on contemporary marimba performance techniques.
Dr. Cameron Brit – Demonstrated and performed on an electro-acoustic instrument that combines the traditional vibraphone with a digital synthesizer.
Dr. Kris Keeton, faculty from UNCG presented a clinic on Snare Drum Technique and Memorization skills for percussionists.
---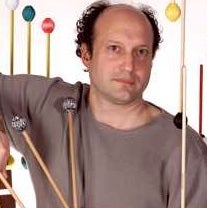 Arthur Lipner: Vibes/Marimba Residency
Arthur Lipner has emerged as one of the leading vibes and marimba voices in jazz today. As such he is one of the few musicians carrying the message of jazz mallets into the 21st century. Arthur's live performances and recorded projects convey an exuberant drive of creativity and depth. His travels around the globe as a jazz musician and percussionist have delighted audiences and critics worldwide. During his residency, Lipner presented clinics on improvisation and vibraphone technique and also performed with the Percussion Ensemble and with the ECU Jazz Ensemble "A".
Winard Harper: Jazz Drumming Clinic
Inspired by the musicianship of greats such as Clifford Brown, Max Roach, Jackie McLean, Cannonball Adderley, Dr. Billy Taylor, Art Blakey and Billy Higgins, Harper has been the leader and musical inspiration for a vibrant sextet for almost a decade. Steeped in the traditions of the great jazz drummers, Harper brings years of gigging experience to ECU.
Daphnis Prieto: Drumset/Percussion Clinic
One of the leading drummer/composers on the contemporary jazz scene, Daphnis Prieto's clinic focused on the drumset in jazz composition, finding your voice and striving for a great feel when playing.
John Ferrari: Percussion in Modern Chamber Music
John Ferrari enjoys a multi-faceted career as a versatile classical and hand percussionist, drummer, conductor, and educator in the New York area. He is a founding member of the Naumburg Award winning New Millennium Ensemble and is drummer/percussionist for Meridian Arts Ensemble-Brass & Percussion. Frequent recipients of the ASCAP/CMA Award for Adventurous Programming, both groups have collectively released ten critically acclaimed recordings. Between these groups and others he has toured extensively as both performer and clinician in the U.S., Europe, Mexico, Central and South America, the Caribbean and Asia.
Rick Latham: Jazz/Rock Drum Set Residency
Rick Latham has been an icon in the field of funk/fusion/jazz/rock drumming for over 25 year. A graduate of North Texas State and East Carolina Universities, he has performed with many leading jazz, funk and blues artists. He is currently touring with the Edgar Winter Group and is the author of the widely acclaimed drumming text "Advanced Funk Studies".
Jae Sinnett: Drum Set Clinic
Jae Sinnett is one of the leading new voices in jazz drumming. He is comfortable in a wide variety of styles from swing to bop to fusion and beyond. He has performed with many of the top jazz players, including Branford and Ellis Marsalis, Joe Henderson, Freddie Hubbard, Chuck Mangione, Charlie Byrd, Herb Ellis, Chico Freeman, Arthur Blythe, Carol Sloane, Jon Hendricks, Randy Brecker, James Moody, Kenny Drew Jr., Fred Hersch, Mulgrew Miller, Frank Morgan and many others.
Carl Allen: Drum Set Clinic
Internationally acclaimed jazz drummer Carl Allen, one of the "swingingest" drummers in today's jazz scene worked with ECU's jazz drummers in a 2 hour masterclass, focusing on time, feel, swing, tune forms, styles and much much more. If you weren't there, you missed a great session.
Christopher Deane: Timpani clinic
Christopher Deane is associate professor in percussion at the University of North Texas. Prior to his appointment with UNT, he was the principal timpanist of the Greensboro Symphony for nine years and a regular performer as both percussionist and timpanist with the North Carolina Symphony for ten years.
Lalo: Vibraphone Masterclass
Lalo is one of the truly new and vibrant voices on the contemporary jazz/pop music scene today. Her approach to the vibraphone crosses the boundaries of jazz, pop, contemporary and chamber music. Her masterclass at ECU opened the eyes of our students to different ways to perform on The vibraphone.
Jamey Haddad: Jazz Drum Set, Ethnic Percussion, Specialist in South Indian Drumming
Jamey Haddad is the drummer for saxophonist David Liebman and has also recorded with Joe Lovano, Carly Simon, New York Voices and many other leading jazz artists. He is currently the touring percussionist for Paul Simon. Mr Haddad is respected around the world for his expertise in hand drumming and knowledge of South Indian rhythms.
Percussion Group Cincinnati
The New York Times calls Percussion Group Cincinnati a "thoroughly rewarding and intensely musical experience." The trio, called 'master musicians' by The New Yorker, have sparked the imaginations of audiences everywhere, using anything from amplified cactus needles, newspapers, and garbage cans to the traditional sounds of drums, cymbals and bells from around the world. With performances for the New York Phil-harmonic's Horizon series, the Kennedy Center, and the Hong Kong Cultural Center, the Group is no stranger to the worldwide stage, pleasing tens of thousands in collective audiences worldwide and changing the way people experience music.
Andrew Lazaro, Afro-Cuban Percussionist, Jazz Artist
Mr. Lazaro was artist in residence for five days working with E.C.U. percussion students and appeared as a guest artist on the Percussion Ensemble concert on April 17. Mr. Lázaro has played with all the major classical ensembles of his native country Puerto Rico and with many more groups of popular music. Included among these are the Orquesta de Cámara Padre Antonio Soler (principal percussionist), Coro de Metales Sine Nomine (timpanist and percussionist), Orquesta Filarmónica Arturo Somohano (timpanist and percussionist), Banda Estatal de San Juan (drummer/percussionist). Sinfónica de Puerto Rico (drummer/percussionist) and the Orquesta Sinfónica del Festival Casals (percussionist). He also has extensive experience as a clinician and as a recording studio musician in both classical and popular music.
Andy Harnsberger, Marimba Soloist/Clinician
Dr. Andy Harnsberger's performance with the ECU Percussion ensemble was nothing short of electrifying. He also gave a masterclass on contemporary performance techniques for the marimba and gave private lessons to ECU percussion students. Dr. Harnsberger earned his Doctorate of Musical Arts in Performance and Literature at The Eastman School of Music in Rochester, New York, where he also received the prestigious Performer's Certificate. He completed his Bachelor of Music and Master of Music from Virginia Commonwealth University.
Kevin Hathway: London Philharmonia Orchestra, Orchestral Percussion Techniques
Kevin Hathway is currently co-Principal Percussion with the Philharmonia Orchestra and a professor at the Royal College of Music. He is also a founding member of the Wallace Collection. Mr. Hathway presented a clinic/masterclass covering techniques for orchestral snare drum, cymbals and tambourine and interpretation of orchestral percussion literature.
John Tafoya, National Symphony Orchestra Timpanist
John Tafoya was awarded the position of principal timpanist with the National Symphony Orchestra in July 1999. He has held previous principal timpani positions with the American Wind Symphony, the Colorado Philharmonic Orchestra, the Owensboro Symphony (KY), the Evansville Philharmonic Orchestra (IN) and the Florida Philharmonic Orchestra. He has also performed with the Louisville Orchestra, the Indianapolis Symphony Orchestra, and the St. Louis Symphony Orchestra. Mr. Tafoya earned BM and MM degrees in percussion performance from Indiana University. Mr. Tafoya's percussion teachers at Indiana University were George Gaber and Gerald Carlyss. Mr. Tafoya's clinic/masterclass focused on stroke techniques, sound production, orchestral literature and audition preparation.
Minnesota Orchestra Percussion Section, March 2000
The percussion section from the Minnesota Orchestra includes principal percussionist Brian Mount and section players Jason Arkis and Kevin Watkins. Mr. Mount and Mr. Arkis presented a clinic and masterclass for the East Carolina University percussion students covering orchestral percussion techniques, literature, performance preparation and audition preparation.
Jeff Moore, Marching Percussion, April 2000
Jeffrey Moore is an Associate Professor of Music and the Director of Percussion Studies at the University of Central Florida in Orlando where he conducts the large "Pop" Percussion Ensemble, the Chamber Percussion Ensemble, the Marimba Band and the UCF Steel Drum Band. He also instructs and arranges for the Marching Knights drum line as well as plays drumset for the UCF Faculty Jazz Trio. In addition to his busy teaching, conducting and performing schedule, Moore serves as the Percussion Director of the internationally acclaimed Madison Scouts Drum and Bugle corps from Madison, Wisconsin.
Orlando Cotto, Marimba Artist, April 2000
A native of Cayey, Puerto Rico, Orlando Cotto received his Bachelor of Music degree from the Conservatory of Music of Puerto Rico where he studied with Jose Alicea. He holds an Artist Diploma from Peabody Conservatory, Johns Hopkins University where he studied with William Moersch. His other teachers include Leigh Howard Stevens, Jonathan Haas, Rebecca Kite, and Keiko Abe. Orlando has been co-leader and conguero with one of the East Coast's most popular salsa bands, The Rumba Club. A former faculty member at Morgan State University (Maryland) and the University of Delaware, Orlando is a Yamaha Performing Artist.