Vocal Pedagogy @ ECU
---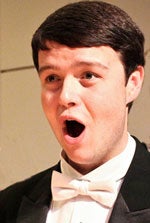 About the Program
East Carolina University's School of Music offers a Master of Music in Performance with a concentration in Vocal Pedagogy degree. The purpose of the combination of performance and pedagogy is to provide the vocal student with a skill set specific to the methodology of teaching voice, in addition to comprehensive studies in vocal performance. The program is intended for classical vocal performers who wish to pursue a pedagogical career, as well as for those who wish to increase their marketability in the industry by developing a more inclusive mastery of vocal mechanism function and the science of the singing voice.
Objectives
The mission of ECU's master's degree in vocal pedagogy is to produce well-rounded performers who also possess the base knowledge and skill set needed to be successful studio voice teachers. The pedagogy curriculum covers topics such as the anatomy and physiology of the vocal apparatus, the history of vocal pedagogy, the national schools of singing, the basics of acoustics, and the examination of various subjective pedagogical concepts. The curriculum is coupled with a variety of opportunities for observation and practical application. Through the use of spectrograph technology, students utilize real-time audio/visual feedback of vocal sound to study vocal events such as onset and release, vowel definition, vowel modification, registration, vibrato, and the spectral relationships among the overtones and formants that characterize the professional singing voice.
For more information on graduate study in vocal performance and pedagogy at ECU, contact:
Dr. Jami Rhodes, Coordinator of Vocal Pedagogy
For audition and other information, contact:
Professor John Kramar, Chair of Vocal Studies Department
For more information on graduate studies at ECU, contact:
Dr. Rachel Copeland, Director of Graduate Studies
We look forward to hearing from you!