Frequently Asked Questions
---
If you have a question, please feel free to ask!
Topics: Check-in, Housing, Dining, Refunds
Check-in/opening day
2:00pm Check-in on opening day for both the Institute and the Teacher Development Course at the AJ Fletcher Music Center Main Lobby. View a campus map. The music building is #9.
4:00pm All participants meet in AJ Fletcher "Recital Hall"
5:00pm Faculty Meeting
7:00pm Faculty and Student "Play-in"
Housing
"I'm staying on campus. What's the dorm situation like?"
Participants staying on campus will be housed in "College Hill Suites." This dormitory was built in 2006 and is the newest facility on campus. Families will find the suite format and the convenience to dinging and the School of Music ideal.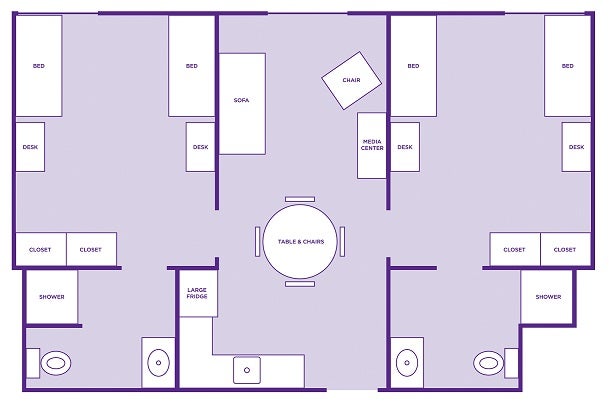 "Anything special we need to bring if we're living in the dorm?"
All linens will be provided (sheets, pillow, blanket, towel). Towels can be exchanged for a $1 fee. Other than that, there are some other items that might be nice:
Your own pillow 🙂
PJ's and a robe (you will be sharing some facilities)
Alarm Clock
Snacks/Drinks (you will have a fridge)
Dining
"Tell me about the Dining Hall…"
Participants staying on campus will be issued a meal card for use in Todd Dining Hall. This dining hall is next door to College Hill Suites. This is NOT your ordinary college cafeteria. More like a food court at your local mall, there are choices for everyone from kids to vegetarians.
"We're not staying in the dorm. Can we take advantage of close convenient meals?"
You don't have to be staying in the dormitory to have a meal plan. Plans can be purchased separately ($175 for adults and children 10 and over. $125 for children 10 and under). Meals in Todd can also be purchased ala carte if you wish to grab a quick bite. The dining hall takes cash, Visa and Mastercard.
"Are there other places to grab lunch quickly?"
There's a local deli (Mike's Deli) within walking distance of the School of Music. Arby's, McDonald's and Subway are just down the street also. They're a little too far to walk though (especially in July!).
Refunds
It is the policy of the institute not to refund applications fees. All other fees CAN be refunded in full provided notice of cancellation and request for refund is received in writing. Refunds are not issued for late arrivals, early departures, or missed meals. Please contact the Chris Ulffers, managing director.