Men's Choir Festival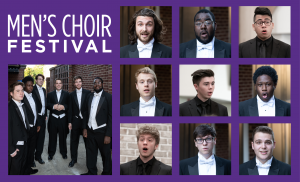 East Carolina University School of Music
Saturday, February 3, 2024
General Information
The mission of the ECU Men's Choir Festival is to promote choral singing, music education, and camaraderie among men in North Carolina.
The ECU Men's Choir Festival is quickly becoming one of THE events in the ECU choral program. The festival is a side-by-side event, where the men of the ECU Chamber Singers and University Chorale will sing within the festival ensemble. The majority of the day will be spent rehearsing and working on repertoire. We will end the day with a music showcase, featuring a performance of some of the men's choir music and one or two selections by the men of the ECU Chamber Singers. The music packet will be distributed at check-in, so there is no preparation required to attend the event.
Participants in the Men's Choir Festival must be selected by their chorus teacher in consultation with Dr. Franklin; however, there is no audition process. Senior, Junior, and Sophomore men simply need to be selected and endorsed by a high school chorus teacher.
Schedule
Note: The festival will be housed entirely at the A.J. Fletcher School of Music on the campus of ECU. 
| Time | Event |
| --- | --- |
| 9:00-9:15 | Check in at A.J. Fletcher Music Center |
| 9:30-1:30 | Rehearsals/Activities/Breaks |
| 1:30-2:15 | Lunch |
| 2:15-4:30 | Rehearsals/Activities continue |
| 5:00 | Music showcase |
Registration
The Men's Choir Festival fee is $35 per student.
The fee pays for a music packet, lunch, a t-shirt, and all instructional costs.
Registration and payment are due no later than Friday, January 26, 2024.