School of Music welcomes two new faculty
---
The School of Music welcomes two new faculty members to start the 2014-2015 school year. Daniel Shirley joins the School as teaching instructor in the Voice Department and assistant professor Dr. Raychl Smith is the newest member of the School's Music Education faculty.
Of his 2013 Carnegie Hall debut, the New York Concert Review noted, "Daniel Shirley's voice soared over the large forces with strength and clarity." The tenor continues to earn critical praise for his appearances in concert, opera, and musical theater. During the 2014-15 season he looks forward to debuting Candide and Anthony Hope (Sweeney Todd) with Madison Opera, and to more concert appearances including Carmina burana with the Alabama Symphony.
Recent seasons have brought debuts with Michigan Opera Theater, Opera Memphis, New York City Opera, Boston Baroque, Sugar Creek Symphony & Song, Madison Opera, and Intermountain Opera Bozeman. In concert, he has appeared at Carnegie Hall with Distinguished Concerts International New York, and with the Pacific Symphony, Seattle Symphony, Music of the Baroque, Indianapolis Symphony and Evansville Philharmonic.
Shirley trained in some of America's most notable apprentice programs: Santa Fe Opera, Florida Grand Opera, Central City Opera and Chautauqua Opera. He is working towards the completion of the Doctor of Music from the Indiana University Jacobs School of Music, where he earned a Master of Music. He holds a Bachelor of Music from the Vanderbilt University Blair School of Music. His teachers have included Patricia Stiles, Jason Ferrante, Jonathan Retzlaff, and Gayle Shay. Shirley is a native of Jackson, Mississippi, and performs often with his wife, soprano Caitlin Shirley.
Raychl Smith comes to the School's Music Education faculty from Minnesota State University Moorhead. Smith holds the Ph.D. and M.M. from the University of North Carolina at Greensboro, and a B.M. from Appalachian State University. She was previously the program coordinator and assistant professor of music education at Minnesota State University Moorhead.
While completing graduate work at the University of North Carolina at Greensboro, Smith served as an instructor of music education at Elon University.
Prior to teaching at the collegiate level, Smith taught in the public schools of North Carolina as an elementary general music teacher, choral director and middle school band director. She was selected as teacher of the year at Weddington Hills Elementary School while teaching in Cabarrus County Smith's research interests include Creative Motion pedagogy, innovative approaches to facilitating free improvisation, community music making, and music education and social justice.Her most recent article, published in the Journal of Creative Motion, explores the differences between external movement and internal motion within Creative Motion pedagogy.
Smith serves as the Second Vice President of the Creative Motion Alliance, a national organization that certifies teachers in Creative Motion pedagogy. She teaches on the summer faculty of the Windswept Music Conference, which has previously been held on the campuses of William Jewel College and Ouachita Baptist University.
Student competition success
Mary Catherine Cox, junior violin performance major studying with Ara Gregorian, won both the Raleigh Symphony Orchestra and the Durham Symphony Orchestra concerto competitions in January 2014. Also, she recently won the 2013-14 ECU Concerto Competition Ron and Patty Allison Prize, and the opportunity to perform as soloist with the ECU Symphony Orchestra. She has been awarded All-State Honors Orchestra and has attended the Music Teacher's National Association state auditions and international music festivals in France, England, and Italy. Last summer Cox was awarded a fellowship to study at the Madeline Island Chamber Music Festival in Wisconsin.
Cox will perform with the Raleigh Symphony February 23 and the Durham Symphony April 6.
ECU School of Music students placed well at the North Carolina Music Teachers Association competitions held at UNCW on Friday, October 8. ECU student cellist CJ Collins won first place and student cellist Hillary Flowers took third place and honorable mention, both in Young Artists Division. Collins and Flowers are students of Emmauel Gruber. Caroline Cox, student of Keiko Sekino, was named alternate in the Young Artist/College piano division. ECU's Dr. Kerry Carlin is chair of the state competitions.
Brooks named 2014 Distinguished Alum
Joli Brooks has been named the 2014 School of Music Distinguished Alumna.
Brooks began playing the violin as a sixth grader in the public schools of Sanford, NC. Brooks performed in the orchestra at Lee Senior High School and studied violin at the Duke String School with Dorothy Kitchen. As a student at ECU, she studied with Dr. Rodney Schmidt and earned her degree in Music Education in 1983. In 2003 she also earned a Master of School Administration from East Carolina.
She has taught orchestra in Lee, Harnett, and Onslow County school systems and has served as a clinician and adjudicator in North Carolina and Virginia. She has been host and chair of various state, regional and local activities for school orchestras. She is the former concertmaster of both the Lee County Community Orchestra and the Crystal Coast Community Orchestra, and continues to perform professionally with the Crystal Strings Quartet. Brooks is National Board Certified in the area of Early Adolescent through Young Adulthood Music, and from 2004-2008 worked part-time for the National Board for Professional Teaching Standards as an evaluator.
Her school orchestras consistently earn high ratings at state orchestra and small ensemble festivals, and many of her students each year earn music awards and scholarships. Today, Brooks is the Director of Orchestras at Jacksonville High School, where she also teaches Advanced Placement Music Theory and International Baccalaureate Music, and serves as the director of the school's Creative and Performing Arts Academy.
In 2012, she was selected by her peers as the NCMEA Eastern Regional Director of the Year and in 2013, she was awarded the Jackson Parkhurst Award for Special Achievement by the NC Symphony. She is currently a student at Boston University, where she is pursuing a doctoral degree in music education.
Organ students achieve
Krista Melcher, senior, has been named "E. Power Biggs Fellow" by the Organ Historical Society. She will represent ECU at the national convention summer 2014 in Syracuse, New York.
Jordan Prescott, sophomore, won the Richard van Scriber scholarship in organ and church music from Metropolitan Music Ministries in Charlotte, NC.
Sharon Veitch, grad student first year, and Prescott both earned the Service Playing Certificate from the American Guild of Organists.
They are students of Andrew Scanlon.
McCaslin nominated for recording award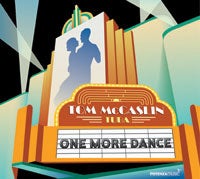 ECU tuba professor Tom McCaslin has been nominated for the International Tuba Euphonium Association Roger Bobo Award in the Solo Tuba category for his CD "One More Dance" released on the Potenza label in March, 2012.
The Roger Bobo, Harvey G. Phillips, Clifford Bevan Awards, and Jim and Jamie Self Creative Award were established by ITEA to foster, encourage, and recognize excellence in the fields of recording, composition, and research. These awards recognize the very best artists, composers, and researchers who have produced work of the highest distinction and are indeed given to those whose work illustrates the highest level of artistry and scholarship, regardless of popularity or other factors.
"One More Dance" is available at iTunes or Amazon
ECU flute students win performance auditions
Willie Santiago has been awarded a Fellowship in Flute as a performer for the National Music Festival for summer 2014. NMF Fellowships are awarded through a competitive process.
Jackie Traish has been accepted by competitive audition as a performer to The Panoramic Flutist Workshop in Boulder, Colorado. Distinguished faculty include Christina Jennings, Lisa Garner Santa and Carol Wincenc.
They are students of Dr. Christine Gustafson.
ECU guitar students place in competition
ECU guitar students distinguished themselves at the Appalachian Guitar Festival's International Solo Competition in April, 2014. Justin Lindley and Aaron Beck were chosen as two of the six semifinalists. Aaron was selected as a finalist and won the second prize.
They are students of Dr. Elliot Frank.
Sarah Cox wins ECU Research and Creative Achievement Week competition
Congratulations to School of Music sophomore Sarah Cox for winning first place for her presentation in the undergraduate Humanities category of the 2014 ECU Research and Creative Achievement Week competition, held April 2, 2014. The title of her presentation was: "The Multi-Faceted Cultural Attainments of the Twelfth-Century Renaissance."
Her faculty mentor was Dr. Kevin Moll.
ECU Music Therapy Club wins Spirit Award
The ECU Music Therapy Club was awarded the Spirit Award for the Southeastern Region (11 states) of the American Music Therapy Association in March 2014. This is the highest award students can receive in the association. Nine music therapy students accepted the award at the luncheon in Mobile, Alabama at the regional conference.
The award is based on the most service projects in the community, the number of members in AMTA, attendance at conferences and the level of visibility in the community.
President: Gina Gerrard
Vice President: Randi Lee
Treasurer: Brianna Henderson
Secretary: Anna Margaret Brown
Historian: Becca Dideum
Parliamentarian: Katie Nolan
Voice students compete at Orpheus
Five ECU voice majors were invited to compete in this year's Orpheus Voice Competition in Tennessee on March 8 and 9, 2014. Sopranos Kimberly Watson and Caroline Vaughan, mezzo-sopranos Martha Hensler and Olivia Johnson, and tenor Ashton Humphrey advanced to the semi-final round from an initial pool of over 200 singers. Kimberly Watson advanced to the final round in the student category — one of only nine finalists in an initial group of over forty semi-finalists. She was awarded fourth place, including the "Donizetti Prize" which included a handsome cash prize.
Kim, Martha, and Olivia are students of Dr. Jami Rhodes. Caroline and Ashton are students of John Kramar.
Music grad wins ECU thesis award
Joanna Pepple (MM '12, Theory-Composition) was selected as 2014 winner of the ECU Humanities & Fine Arts Master's Thesis Award. The award includes a cash prize of $500 and a certificate of achievement.
Her thesis advisor was Dr. Amy Carr-Richardson.
Each ECU college was invited to nominate a thesis in the Humanities and Fine Arts category for consideration. Her thesis was selected by a committee of faculty and administrators based on its (1) impact in the chosen field of study; (2) the compelling case it makes for new approach to a problem of significance; (3) the quality of writing and clarity of its message; and (4) the originality of the work.
ECU voice students win North Carolina NATS awards
ECU's participants in the North Carolina Chapter of the National Association of Teachers of Singing Auditions were very successful in February! Congratulations to the following winners:
First Place — Freshmen Women
Rebekah Shamberger
First Place — Junior Women
Michelle Lerch
Second Place — Junior Women
Caroline Vaughan
Second Place — Senior Women
Olivia Johnson
Third Place — Junior Women
Arlie Honeycutt
Third Place — Senior Women
Kimberly Watson
All of the prize winners above qualified to advance to the Regional Auditions in April.
Singers who also qualify to advance to the Regional Auditions in April:
Rachel Skora
Ashton Humphrey
Julia Becker
Casey Daniel
Sara McBrayer
Rachel Webb
The competing students from ECU are students of Jami Rhodes, Rachel Copeland (Meghan Dewald), and John Kramar.
Kramar releases voice CD
John Kramar (Chair, Department of Vocal Studies; Director, ECU Opera Theater) has had a new compact disc recording released on the Albany Label. "The Collected Songs of Alva Henderson" is a 2-CD set featuring 26 songs by the award-winning California based composer Alva Henderson. Kramar has been associated with Mr. Henderson for the past 20 years. Henderson first engaged him to sing a New York recital featuring premier performances of four songs written to texts by the former Chair of the National Endowment for the Arts, Dana Gioia. The collaboration has been a fruitful one, with Kramar continuing to champion Henderson's works in numerous recitals around the country, including several workshop performances of Henderson and Gioia's opera, Nosferatu, where he sang the title character. The current recording was made during August of 2012 on the campus of Pepperdine University in Malibu, California. Kramar is partnered with soprano Melanie Emilio, and pianist Louise Lofquist – both of whom are members of the music faculty at Pepperdine. For further information about the recording, go to www.albanyrecords
---
Assistant Professor of Violin Hye-Jin Kim has released a debut CD with pianist Ieva Jokubaviciute on the Concert Artists Guild label entitled "From the Homeland." Kim takes an emotional and personal journey through four works, exploring Sibelius' thought that "Music begins where the possibilities of language end." The album includes violin sonatas by Debussy and Janacek and rarely heard works by Sibelius and Smetana. The CD can be downloaded at www.cdbaby.com/cd/hyejinkim.
Ulffers named School of Music Director
The East Carolina University School of Music welcomed Christopher Ulffers as director beginning January 2, 2014.
Ulffers replaces Christopher Buddo, who was named Dean of the College of Fine Arts and Communication in June 2013. The School of Music is one of the four schools that comprise the college.
Ulffers came to the School of Music in 1992 and has served continuously since, both as associate director and professor of bassoon. Ulffers' duties as associate director included undergraduate admissions and scholarship administration, the assignment of faculty loads, course scheduling and assets management for the Fletcher Music Center.
"I am thrilled that Chris will be leading our school," said Buddo. "His years of service as associate director have prepared him well to take on the challenges of directing the School of Music—he has worked with all levels of university administration and is uniquely qualified to advocate for our outstanding school, and he possesses the vision to carry the school to new levels of excellence.
"Thank you to Scott Carter for his strong and dedicated leadership during the interim period. His service as interim director kept the School of Music functioning at the highest level and has positioned us well for moving forward."
In addition to teaching bassoon, Ulffers taught a variety of courses in music history, music literature and music appreciation prior to his administrative appointment. In 1997 he was the recipient of the Robert and Lina Mays Award for Teaching Excellence awarded by the ECU Alumni Association.
"It is with great humility and honor that I become the next director of the School of Music," said Ulffers. "ECU has been and will continue to be a beacon of musical excellence in the region, and I am well aware of the tradition we have to uphold."
Ulffers has been published in The Opera Journal and he presented papers at the ECU Conference on Renaissance Studies and the Conference on Renaissance Studies at Universitá degli Studi di Ferrara, Ferrara, Italy.
He has participated in the Aspen Music Festival, was a bassoonist and staff librarian with the National Repertory Orchestra for five summers and was on the artist/faculty of the Eastern Music Festival in Greensboro, NC. He is currently the principal bassoonist of the Chamber Orchestra of the Triangle and has appeared several times as concerto soloist. He has also appeared as concerto soloist with the ECU's wind ensemble, symphony orchestra and chamber singers. Ulffers' appearance with the Chamber Singers at the 2009 New Music@ECU Festival featured the American premiere of the Bassoon Concerto by Norwegian composer Egil Hovland. This performance led to the first commercial recording release of this work in 2010 on the Gothic recording label, distributed by Naxos. He was contrabassoonist with the Virginia Symphony and Virginia Opera from 1993-2003, appearing with the orchestra at the Kennedy Center and Carnegie Hall and on several recordings. He is frequently called upon as an extra musician by orchestras throughout the region and he performs regularly with the North Carolina Symphony in educational, pops and classical series concerts.
He received a Bachelor of Music from Southern Illinois University at Edwardsville in 1989 and continued his studies as a graduate student at Indiana University where he received a Master of Music degree in 1991.
He resides in Greenville with his wife Beth and their three children.
Scanlon releases organ CD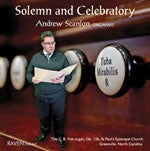 Andrew Scanlon, ECU's professor of organ has released a new compact disc recording, "Solemn and Celebratory," on the Raven label. The album, recorded on The Perkins and Wells Memorial Organ at St. Paul's Episcopal Church in Greenville, features a wide variety of organ literature designed to showcase the versatility of the Fisk pipe organ. School of Music faculty member, Travis Garrison, was the recording engineer. The C.B. Fisk organ is the primary teaching and performing instrument for ECU's organ and sacred music students. Details about the instrument may be obtained here.
The CD is available at Amazon.com or RavenCD.com.
Tomlinson's "Audible Desserts" chosen for Electronic Music Midwest Festival
ECU composition graduate student Joshua Tomlinson has had his composition "Audible Desserts" selected by the Electronic Music Midwest Festival for performance in October. It was chosen previously by PARMA recordings for the SCI Region 1 Conference/PARMA Music Festival in August.
Cain, Cooper receive Distingiushed Alum awards
Organist Frances Cain (BM "59), the first woman to receive a BM at ECU, and vocalist Bridgette Cooper (BM '90) were awarded the 2013 ECU School of Music Distinguished Alumni Awards April 30, 2013 in a ceremony at Peace Presbyterian Church in Greenville, NC. The awards presentation was followed by a performance by the ECU Chamber Singers.
ECU voice students win North Carolina NATS awards
ECU's participants in the North Carolina Chapter of the National Association of Teachers of Singing Auditions were
very successful this weekend! Congratulations to the following winners:
Cera Finney — 1st place, Senior Women
Caroline Vaughan — 1st place, Sophomore Women
Emily Tucker — 2nd place, Senior Women
Michelle Lerch — 2nd place, Sophomore Women
Allison Gross — 3rd place, Junior Women
Ashton Humphrey — 3rd place, Junior Men
Jerenae Raeford — 3rd place, Freshmen Women
In addition to the six prize winners, the following students earned scores that were high enough to enable them to participate in the Regional Auditions in April at the College of Charleston:
Julia Becker (Sophomore Women)
Scott Willis (Graduate Men)
Cain, Cooper receive Distingiushed Alum awards
Organist Frances Cain (BM "59), the first woman to receive a BM at ECU, and vocalist Bridgette Cooper (BM '90) were awarded the 2013 ECU School of Music Distinguished Alumni Awards April 30, 2013 in a ceremony at Peace Presbyterian Church in Greenville, NC. The awards presentation was followed by a performance by the ECU Chamber Singers.
2013 Orpheus National Voice Competition
ECU students and alums placed well in the 2013 Orpheus National Voice Competition.
Cera Finney won third place and the Orpheus Da Capo cash prize in the final round of the student category, Todd Barnhill won a cash encouragement award from the judges in the student category and Elizabeth Thompson (MM '11) took fifth place and the Mozart cash prize in the final round of the young artist category. Semi-finalists from ECU included Emily Tucker, Jordan Winslow, Brenton O'Hara, and Scott Willis, as well as recent graduates Josh Allen (BM '12) and John Charles Clark (MM '12.) There were over 200 original applicants, narrowed down to 43 students, and 26 young artists in the semi-final round. The final round had eight students and eight young artists hailing from ECU, CCM, Eastman, University of Kentucky, Boston University, Indiana University, Vanderbilt, and several other fine schools.
Finney and Tucker study with Jami Rhodes. Thompson, now a DMA student at University of Illinois, studied with John Kramar. Barnhill, O'Hara, Winslow, and Willis study with Kramar. Allen studied with Perry Smith. Clark graduated in 2012, is currently an adjunct faculty member in the voice department, and studied with Kramar.
ECU students win MTNA awards
ECU School of Music students won prestigious awards at the North Carolina Music Teachers National Association competition held in Chapel Hill in November.
Aaron Robinson, 1st year masters of music student in tuba performance, won the senior brass division. Robinson is a student of Tom McCaslin.
Andrew Kropp was the winner of the woodwind young artist division. He is a senior saxophone student of Dr. Jeff Bair. Junior flute performance major Jackie Traish, a student of Dr. Christine Gustafson, won honorable mention.
The ECU string area swept the awards in the string young artist division at MTNA.
Winner – CJ Collins, a senior cello student of Emanuel Gruber
Alternate – Micaela Fruend, a viola student of Ara Gregorian and Melissa Reardon
Honorable Mention – Logan Dailey, a junior cello student of Emanuel Gruber
Kyle Walker, senior piano student of Benjamin Hochman, won honorable mention in young artist piano.
Music Therapy/Education welcome guests