Virginia D. Driscoll
---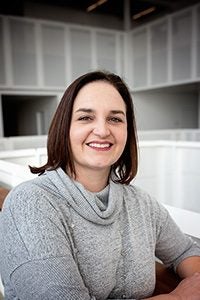 Assistant Professor of Music Therapy

driscollv19@ecu.edu
Dr. Driscoll joined the faculty of East Carolina University in 2019. Her research investigates the use of music therapy for children with hearing loss and speech-language delays, understanding and improving music perception of adults and children with cochlear implants, helping music educators adapt to students in the classroom with hearing loss, and encouraging undergraduate research collaboration. In 2022, she created the SCALE (Student Collaboration Assessing Learning Experiences) Lab at ECU with her students.
Education
Bachelor's degree in Music 2001, East Carolina University
Master's degree in Music Therapy in 2006 and a PHD degree in Music Education and Therapy in 2019 from the University of Iowa.
Areas of Interest
Speech-language delays
Cochlear implants
Empowering through music
Student research
Current Courses Taught
Orientation to Music Therapy Practicum (MUSC 2287)
Music for Group Activities (MUSC 4277)
Music for Group Activities Practicum (MUSC 4287)
Psychology of Music (MUSC 4957)
Research Methods in Music and Music Therapy (MUSC 4967)
Research Methods in Music and Music Therapy Lab (MUSC 4987)
Music Therapy Internship (MUSC 4990)