Travis Alford
---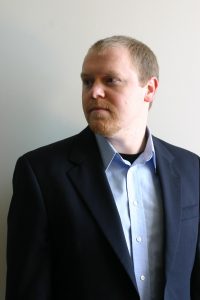 Music Theory, Music Composition
alfordt16@ecu.edu
---
Ph.D., music theory and composition (Brandeis University); M.M., music composition (New England Conservatory); B.M., music theory and composition (East Carolina University). Composition studies with David Rakowski, Eric Chasalow, Melinda Wagner, Yu-Hui Chang, Lee Hyla, Edward Jacobs, Mark Richardson and Mark Taggart. Trumpet studies with Britt Theurer, Trent Austin, Brian McWhorter, and Jon Nelson. Improvisation studies with Tanya Kalmanovitch and Brian McWhorter.
Travis Alford (b. 1983) is a composer, trumpeter, improviser, educator, amateur woodworker, husband and father (and not exactly in that order). He has worked with a number of ensembles and musicians, including the Meridian Arts Ensemble, the Lorelei Ensemble, Talujon Percussion, clarinetist Christopher Grymes, trombonist Benjamin Herrington and violinist Ari Streisfeld, on the creation and performance of his music, which has been described as "graceful" (NY Times), "truly sublime" (Boston Classical Review) and "overwhelming and other-worldly" (Boston Music Intelligencer). Recognition for his work includes the American Prize in Music Composition (2015), the Sandra Shea Fisher Prize for Exceptional Achievement in the Creative Arts (Brandeis University, 2014), the League of Composers/ISCM Composers' Prize (2012) and an ASCAP Morton Gould Young Composers Award (2010).
In addition to his formal academic studies, Travis has been a fellow at the Composers Conference at Wellesley College, New Music on the Point, June in Buffalo, the Oregon Bach Festival and the Summer Institute for Contemporary Performance Practice. He has also been Composer-in-Residence at the FSU Festival of New Music, the North Carolina New Music Initiative and the Nief-Norf Summer Festival; and has held artist residencies at the MacDowell Colony and the Atlantic Center for the Arts. Prior to his current appointment at ECU, Travis held teaching positions at MIT, Brandeis University, Gordon College and Johnston Community College.
As a performer, Travis is committed to the promotion and conservation of music both old and new, and has played trumpet with the New England Philharmonic, the Boston New Music Initiative, the Equilibrium Concert Series, New Music Brandeis (co-director, 2011-13), The Gentlemen's Very (Very) High Art Society of South Waltham (composer/performer/improv ensemble – co-founder and director, 2011-2015), both the brass ensemble and orchestra at Boston's historic Park Street Church (co-founder/director, 2008-2015), the Northeast Italian Band, the Triangle Brass Band, the Tar River Symphonic Band and the ska/reggae band The Allstonians. He also, from 2008-2010, co-directed and curated the experimental COMPROVISED Music Series in Boston and NY. Travis can also be found blowing on the harmonica from time to time.
Travis currently lives in Clayton, NC, with his wife Lauren, son Owen and dog Toby. For more information, and to listen to Travis's music: http://www.travisalford.com