Quintin Mallette
---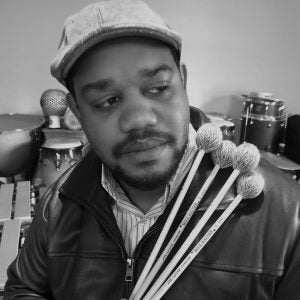 Percussion/Drums
malletteq22@ecu.edu
---
Quintin Mallette is a dynamic percussionist dedicated to exploring new and underrepresented voices in percussion through performance, commissioning and research. He is a section percussionist with the Fayetteville Symphony Orchestra, and he has performed with the North Carolina Symphony, Carolina Philharmonic, Hilton Head Symphony and Savannah Philharmonic. He has presented at the GMEA State Convention, NC Day of Percussion and Georgia College Day of Percussion. Mallette is published in Percussive Notes, the official research journal of the Percussive Arts Society, and he serves on the scholarly-research committee of the Percussive Arts Society, the PAS Diversity Alliance, and the Vibraphone Project.
Mallette is a strong supporter of new music, with recent commissioning projects including the Everybody Hits! And Well-Behaved Women Seldom Make History Consortiums, as well as works by Von Hansen Alex Dowling, and Paul Lansky.
Dr. Mallette has served on the faculties of Fayetteville State University, Barton College and the University of Mount Olive. Mallette received his DMA and MM from the University of Georgia and his BM from Howard University. His teachers include Timothy K. Adams, Jr., Kimberly Toscano Adams, William (Bill) Richards II, Dr. Janis Potter, Dr. Jonathan Wacker and Chris Nappi.
He lives in Greenville, NC, with his wife Jacquelyn and three children, Cadence, Dorian and Ellington. He is a proud endorser of Pearl/Adams instruments and Vic Firth sticks and mallets.