Navid Bargrizan
---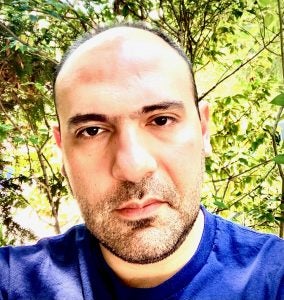 Navid Bargrizan
Musicology
bargrizann23@ecu.edu
---
Ph.D. (Musicology, Composition), University of Florida; M.A. (Musicology, Art History), University of Hamburg; B.A. (Composition), Azad University Tehran.
My research projects examine the music philosophical and music-theoretical ideas of composers Manfred Stahnke, Harry Partch, Mozart, and Roger Waters, as well as the singer and author Carla Henius. They have led to publications in the USA, Canada, Germany, Austria, and Turkey, such as in the Journal of the Society for American Music, eContact! Online Journal for Electroacoustic Practices, Systematische Musikwissenschaft: Popular Music Studies Today, and Müzik Bilim Dergisi: Journal of Musicology. I have presented aspects of my research at several conferences, including the national meetings of the Society for Music Theory, American Musicological Society, German Studies Association, Society for American Music, and International Association of the Study of Popular Music, as well as in Berlin, Kassel, Vienna, Salzburg, Lucca, Toronto, Ottawa, and Istanbul. These projects have led to awards I have received such as several faculty research incentive grants, a one-year DAAD Postdoctoral Fellowship, DAAD Short-Term and DAAD German Studies Scholarships, Tedder Fellowship of the Center for Humanities and Public Sphere of the University of Florida, UF Graduate School Doctoral Research Award, and UF Best of College of the Arts Creative Research Award, as well as grants from Institut für neue Musik und Musikerziehung Darmstadt, International Ekmelic Music Society Salzburg, and International Office of the University of Hamburg.
Nearly all of my compositions explore microtonal, intonational, and tuning concepts, both in acoustic and electroacoustic contexts. Since I moved from Hamburg, Germany to the USA in 2012, my experiments with microtonality and electronics have resulted in approximately twenty premieres and more than seventy performances of my works in the North America and Europe, for instance at New York City Electroacoustic Music Festival, Toronto International Electroacoustic Symposium, Eastern Music Festival, Florida Contemporary Music Festival, Midwest Music Consortium, Conferences of the Society of Composers, Inc., Mikrotöne Symposia at Mozarteum Salzburg, and Modern Mondays Concert Series in Copenhagen, as well as at Art NOW and Pro Musica concert series in North Carolina. Virtuoso musicians and ensembles such as Laurent Estoppey, Steve Stusek, Susan Fancher, Tolgahan Çoğulu, Jonas Frølund, Katharina Uhde, Boston String Quartet, Bold City Contemporary Ensemble, and Galan Trio have performed and recorded my works, and I was a 2018 Composer-In-Residence of the Harn Museum of Art (Gainesville, Florida). For my woodwind quintet "Tuning Exercise No.1 and my piece for microtonal adjustable guitar "Se-Chahar-Gah," American Prize for Composition chose me as a finalist in its 2017 and 2020 editions, and my music is published under Navona and Ravello labels by Parma Recordings, as well as by Mahoor Institute and Edition Zalzal. The 2023 edition of American Prize have so far chosen me as a semi-finalist for my solo viola piece "Kupferteich." I have also directed and conducted various new music ensembles in the performances of my own and other contemporary composers' works.
Before joining ECU, I taught Music History, Composition, Music Theory, Musicianship, General Humanities, and German language at the University of Florida, Texas A&M University-Commerce, Valparaiso University, and Dallas Goethe Center. My personal website www.navidbargrizan.com contains comprehensive links to my performances, recordings, writings, syllabi, and more.