Catherine Gardner
---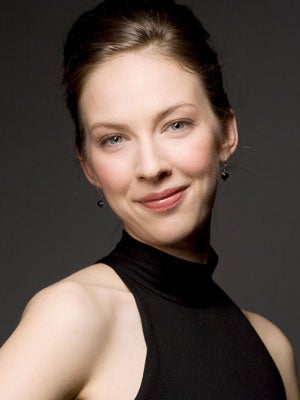 (D.M.A., University of Toronto; G.P.D. and M.M., Peabody Institute of Johns Hopkins University; B. Mus., University of Western Ontario)
gardnerca18@ecu.edu
---
Soprano Catherine Gardner joined the School of Music at East Carolina University in 2018 as Assistant Professor in the Vocal Studies Department. She currently teaches studio voice, graduate diction classes and assists with the opera. Though she is new to ECU, Catherine taught for over 10 years at the Beckett School at Laurier University in Waterloo, Ontario, Canada. Dr. Gardner is in demand as an adjudicator, masterclass clinician and examiner (Conservatory Canada). She was recently granted membership to the Canadian Music Festival Ajudicators' Association. A member of NATS, Dr. Gardner's students have received various awards and honors and have been accepted into prestigious music programs throughout North America.
Dr. Gardner has been praised for her embodied singing and dramatic range in both art song and opera. Recent highlights include Schubert's Totus in corde langueo with Detroit Symphony clarinetist Laurence Liberson (Michigan), performing as guest soloist for Stratford Symphony Orchestra's "New Year in Vienna," as well as a performance of Norbert Palej's The Poet and the War with pianist Lara Dodds-Eden for the Burdock's "Pianofest" (Toronto). Solo performances of note include Barber's Knoxville: Summer of 1915, Rutter's Magnificat, Handel's Messiah, an all-Grieg recital with the Oslo String Quartet, Strauss' Four Last Songs, Fauré's Requiem, Mozart's Mass in C Minor, Schubert's Mass in Bb as well as "Countess Almaviva" in Mozart's Le Nozze di Figaro and "Elvira" in Mozart's Don Giovanni. Dr. Gardner has also premiered several contemporary roles including "Gertrude" (Mark Richard's Hamlet, Stratford Summer Music), "Ophelia" (Amy Kirsten's Ophelia Forever, Peabody Conservatory), "Madame X" (Bill Miller's The Rival, Orpheus Productions), and Craig Bohmler's cycle, Songs of Stone (Canadian Premiere, Stratford Symphony Orchestra).
Upcoming performances include Julianna Hall's A World Turned Upside Down with pianist Dr. Catherine H. Garner as part of a Holocaust remembrance Recital, Berlioz's Nuits d'été and Palej's The Poet and the War in recital with pianist Eric Stellrecht and Melinda Wagner's Four Settings with chamber orchestra and conductor Dr. Bill Staub at the NewMusic Initiative premiere of Wagner's Tell it Slant. She will also be re-appearing as a soloist with the Stratford Symphony Orchestra's "New Year in Vienna" concert.
Dr. Gardner's research on the experience of pregnancy for the classical singer garnered attention from https://slippeddisc.com, an interview with Austin's classical radio station (KMFA 89.5) and Classical Singer Magazine. To read more about Dr. Gardner's research, teaching and performing, check out www.singingfortwo.com and https://catherinegardnersopr.wixsite.com/catherinegardner.