MERIDIAN ARTS ENSEMBLE [March 18, 2017]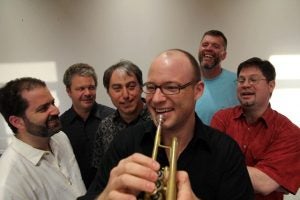 The MERIDIAN ARTS ENSEMBLE, a sextet comprised of five brass players and a percussionist, is America's leading brass group exploring the music of today. Founded in 1987, with nine commercial CD releases, over fifty premieres, and performances on four continents and in forty-nine states, Meridian's exciting and ambitious musical approach has changed the face of classical music.
Meridian Arts Ensemble has succeeded in bringing classical music to popular audiences. Consistently attracting a diverse audience base, the ensemble has worked tirelessly to keep the traditions of classical music alive, to spread the appeal of these traditions, and to revisit these traditions from a contemporary sensibility.
Friday, March 17
11am (Recital Hall): MAE reads and records works-in-progress by student composers
2-4pm: Master Classes
Tim Leopold, Josef Burgstaller, Trumpet, rm 136
Daniel Grabois, Horn, rm 200
Mark Hetzler, Trombone, rm 306
Raymond Stewart, Tuba, rm 265
3-5pm: John Ferrari, Percussion, rm 110
Saturday, March 18
7:30pm (Recital Hall): Concert including works by Coperario, Grabois, Jacobs, Forsythe, Maggio, and Byrd.
[March 18, 2017 Concert @ A.J. Fletcher Recital Hall, 7:30pm, free admission.]