FREQUENCIES [February 16, 2017]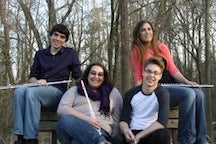 Frequencies is an ensemble created and directed entirely by students. These remarkable members of the ECU School of Music's community make programming decisions, form ensembles, rehearse and prepare works for performance. Frequencies is music's future blooming before our ears. Come hear what drives the next generation's musical interests and passions!
Program includes Terry Riley's In C, Alban Berg's Die Nachtigall, Steve Snowden's Long Distance, Varese's Density 21.5, and Casey Cangelosi's Etude in E Minor and Sleight of and Evil Hand.
[February 16, 2017 Concert @ A.J. Fletcher Recital Hall, 7:30pm, free admission.]