SHARON HARMS, soprano & STEVEN BECK, piano [January 26, 2017]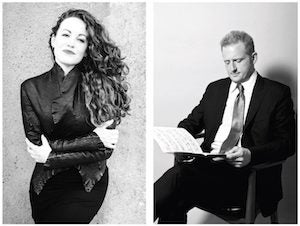 Tune in to the 7:30pm concert on YouTube.
Download the concert program here.
Praised as "superb," "luscious-toned," "extraordinarily precise and expressive," and "dramatically committed and not averse to risk" by the New York Times, SHARON HARMS is known for fearless performances and passionate interpretations of works new and old for the recital, concert, and operatic stage.
Ms. Harms has appeared as a fellow at the Tanglewood Music Center, and at June in Buffalo, L.A. Internat'l New Music Festival, Radcliffe Inst., Institute for Advanced Study in Princeton, Wellesley Composer's Conference, American Academy in Rome, and Resonant Bodies Festival.
---
American pianist STEVEN BECK continues to garner impressive acclaim for his performances and recordings worldwide. Praised by the New Yorker as "one of the city's finest young pianists", a recent New York concert by Mr. Beck was described as "exemplary" and "deeply satisfying" by Anthony Tommasini in the New York Times.
Highlights of the 2012-13 season include the American premiere of a piano etude by Charles Wuorinen, recordings of Carter's late piano works for Bridge Records' Carter series, and an appearance as soloist on the New York Philharmonic's "Symphonic Sondheim" concert this spring. In addition, he again performed on the New York Philharmonic Ensembles series, and repeated his annual performance of Bach's "Goldberg Variations" on Christmas Eve at the Barge; this has become a New York institution.
Tuesday, January 24
4pm (Recital Hall): Sharon and Steve speak to students about developing a career.
Thursday, January 26
2-4pm (Recital Hall): Piano Master Class with ECU piano students
7:30pm (Recital Hall): CONCERT
Warble me now, for joy of Lilac-time (1943), by Elliot Carter
Du (1951), by Milton Babbitt
from The Book of Hours: Love Poems to God (2005), by Brad Mehldau
Palladium (2016), by Edward Jacobs [WORLD PREMIERE]
Apparition (1979), by George Crumb
Friday, January 27
11am-1pm (Recital Hall): Sharon & Steve read and record works-in-progress by student composers.
3pm (Recital Hall): Voice Master Class with ECU students
[January 26, 2017 Concert @ A.J. Fletcher Recital Hall, 7:30pm, free admission.]