MATTHEW RICKETTS, composer [November 2-5, 2016]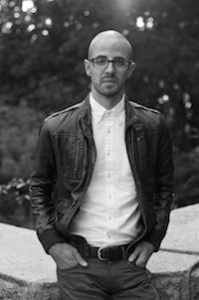 Matthew Ricketts's music has been featured on festivals and concerts in Montreal, Toronto, Vancouver, Nebraska, New York, Austin, Paris and Boston, where his Double Concerto shared for first prize at the ALEA III International Composition Competition in 2007. Matthew is a the recipient of 7 prizes in the SOCAN Foundation's Awards for Young Composers, a 2013 ASCAP Morton Gould Young Composer Award and the 2015 Salvatore Martirano Memorial Composition Award.
Matthew's music has been performed by the McGill Contemporary Music Ensemble, The Chiara String Quartet, sopranos Margot Rood, Ellen Wieser and Tony Arnold, JACK Quartet, Quatuor Bozzini, Yarn/Wire, the Esprit Orchestra, the Nouvel Ensemble Moderne (NEM), Wet Ink, TAK, Ensemble Paramirabo, Pazzia Collective, Argento Ensemble, Ekmeles and many talented performers of his own generation.
Recent festivals include participating in the Nouvel Ensemble Moderne's 2014 FORUM in Montreal, the 2015 Wellesley Composers Conference and a fellowship at the 2016 Aspen Music Festival. Upcoming commissions include a new piece for the OSM's organist Jean-Willy Kunz, pianist Julia Den Boer and Chartreuse Trio.
In addition to composing, Matthew maintains an avid interest in poetry and prose and has contributed original text for multiple librettos, spoken word works, choral music and song cycles, including the opera Less Truth More Telling with music by Thierry Tidrow (Den Haag and Amsterdam, 2013) produced through the Dutch National Opera and the Royal Conservatory.
As the composer selected for a commission by ECU students, Matthew Ricketts visits us in November to begin the collaborative phase of his commission. He will compose a piano concerto for Dr. Keiko Sekino and the ECU Symphony under the direction of Dr. Jorge Richter, to be delivered December, 2017, and premiered/recorded in the spring, 2018.
This November, 2016 visit will be an opportunity for us to welcome Matthew into out community, for him to meet students, conductors, Dr. Sekino, teach classes, and work with student composers.
Thursday, Nov. 3
12-1pm (rm 110): Matthew observes the ECU Wind Ensemble, Scott Carter, Dir.
1-2:30: Lunch with students & faculty
2:30: Matthew works one-one with student composers
7:30pm (Recital Hall): Recital by pianist Julia Den Boer including works by Michael Finnissy, Rebecca Saunders, Alvin Lucier, Henri Dutilleux, and a world premiere of a new work by Matthew Ricketts.
Friday, Nov. 4
8-10am (rm 216): Matthew speaks with freshman Music Theory classes
11-11:50am (rm 200): Speak about his own music in a seminar setting
12-1pm (rm 110): Matthew observes the ECU Orchestra in rehearsal, Jorge Richter, Dir.
1-2:30: Lunch with students & faculty
2:30: Matthew works one-one with composers
Saturday, Nov. 5
10am-12pm: Matthew observes the ECU Symphony Orch, Jorge Richter, Dir.
[November 3, 2016 Concert @ A.J. Fletcher Recital, 7:30pm, free admission]