MICHAEL LOWENSTERN, bass clarinet [September 29, 2016]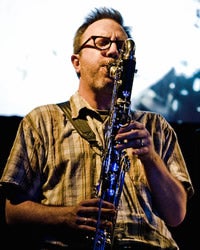 MICHAEL LOWENSTERN, widely considered one of the finest bass clarinetists in the world, has performed, recorded and toured as a soloist and with ensembles of every variety. Michael has written music for concert, film, dance and various other new media over the span of his 23-year career. His collaborations have included remixes for the landmark recording "In C Remixed" (featured on NPR's RadioLab), Michael Gordon's video opera "Chaos" and various dance works with David Lang. To date he can be heard on over fifty CDs, including five solo recordings of his own.
He serves on the faculty of the Manhattan School and the Juilliard School. His diverse awards range from a Webby in 2009 for Pepsi's "Dear Mr. President" campaign to Second Prize at the International Gaudeamus Contemporary Music Competition back in 1991.
Lowenstern's time with the NewMusic Initiative will include:
Wednesday, Sept. 28
6pm (rm 105): Michael works with clarinetists in a Master Class setting
Thursday, Sept. 29
1pm (rm 110): "How music school prepares you for almost any career–even a musical one."
7:30pm (A.J. Fletcher Recital Hall): CONCERT!
Friday, September 30
11am (Recital Hall): Michael reads and records works-in-progress by student composers
2pm (Rm 200): more about Michael's musical ideas and creative process.
[September 29, 2016 Concert @ A.J. Fletcher Recital Hall, 7:30pm, free admission.]