Choral Conducting
---
Graduate Studies in Choral Conducting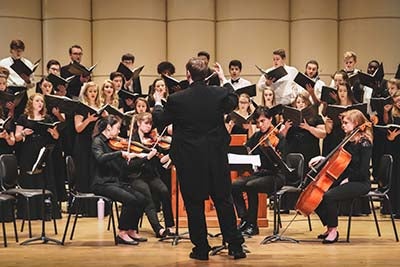 The MM programs in choral conducting at ECU are geared towards students who are curious, eager to learn, hardworking, and passionate about developing their craft. Primary emphasis is placed on growth in four key areas: score study, rehearsal preparation and pedagogy, manual gesture, and  musicianship.
Program Highlights
All participants in the MM Choral Conducting program receive weekly instruction from the Director of Choral Activities, James Franklin. Students also have the opportunity to study with a very accomplished voice faculty in the areas of vocal performance and vocal pedagogy.
ECU is known for choral singing. As such, graduate students have the chance to sing with the internationally-renowned ECU Chamber Singers, as well as work with a secondary choral ensemble and another conductor on the choral conducting faculty. All students share time conducting the Collegiate Choir, a laboratory ensemble comprised of 26-32 singers. Additionally, MM students have the opportunity to work with highly acclaimed guest artists. Recent choral division guests have included Simon Carrington, Donald Neuen, Joseph Flummerfelt, and Sandra Snow.
Application & Audition
ECU offers two concentrations:
1. M. M., Concentration in Choral Conducting
This degree is designed for the outstanding musician who aspires to a career as a professional choral conductor or accomplished choral educator. The curriculum consists of a combination of weekly private lessons and combined conducting seminars, advanced choral literature courses, and frequent podium time with various university choral ensembles. Students also enroll in voice and/or keyboard lessons and enjoy a rich curriculum of upper-level theory, history, diction and other elective courses.
2. M. M., Concentration in Sacred Music, Choral Conducting
This degree is designed for the outstanding musician intending to dedicate himself/herself to a career in the religious arts. In addition to an intensive curriculum of conducting techniques, choral singing, and choral literature, this program includes seminars and internships emphasizing the philosophy of sacred music, organ study, hymnology, organ pedagogy, the history of sacred music and other pertinent areas of knowledge.
Auditions
The audition process consists of two components: an initial pre-screening and an on-campus audition.
Initial Pre-screening
To be considered for an on-campus audition, applicants must:
1. Submit an application to the Graduate School
2. Submit the following media to Dr. James Franklin by December 15, 2023:
a. a video recording showing a rehearsal of two contrasting choral pieces (max. 10 min.)
b. a video recording showing a performance conducting a choral ensemble (max. 6 min.)
c. a video recording of the candidate singing either an art song or aria
d. a video recording which includes a sample vocalization
All media should be emailed directly to Dr. James Franklin by December 15, 2023.
On-Campus Auditions
On-campus auditions will be scheduled with the invited candidates by January 5, 2024, preferably on one of two dates: Friday, January 26, 2024 or Monday, February 5, 2024.
Assistantships
Graduate assistantships and out-of-state tuition waivers are available on a yearly basis in both conducting degree programs.
For additional information contact Dr. James Franklin, Director of Choral Activities.