John Kramar
---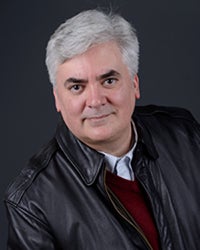 Chair, Vocal Studies
Voice-baritone
kramarj@ecu.edu
---
John Kramar has displayed his sensitive artistry in a wide variety of concert and operatic repertoire. This season includes performances of Saint-Saëns' Christmas Oratorio with the Vermont Symphony Orchestra, Bach's Mass in b minor with the Choral Socity of Durham, and the role of Horace Tabor in ECU Opera Theater's production of The Ballad of Baby Doe. Recent seasons included recital appearances at University of Iowa, Fredonia State University, and David Lipscomb University, as well as performances of Haydn's The Creation and Handel's Messiah with the Middle Tennessee Choral Society, and Dvorak's Te Deum with the East Carolina University Chorale and Symphony Orchestra. Past seasons featured the release of his latest recording The Collected Songs of Alva Henderson, recorded on the Albany label, as well as appearances as baritone soloist in Samuel Barber's The Lovers with Concert Singers of Cary, and as bass soloist in Sir Michael Tippett's A Child of our Time with the Choral Society of Durham and the NC Master Chorale. He has sung performances of Bach's St. Matthew Passion, St. John Passion, and Mendelssohn's Elijah with the Nashville Symphony and the NC Master Chorale, Wolf's Spanisches Liederbuch with pianist John Wustman, and recitals throughout America with pianist Eric Stellrecht. He sang the title role in the world premiere showcase of Alva Henderson and Dana Gioia's opera Nosferatu in Chattanooga, TN, as well as performances of Messiah, Carmina Burana, Haydn's The Creation, Elijah, Beethoven's Choral Fantasy, and Brahms' A German Requiem with the Middle Tennessee Choral Society. He is featured on recordings of Gary Smart's The Major's Letter, Brahms' Vier Ernste Gesänge and Solo Vocal Quartets, Folk Song Settings of Beethoven, and Solo Vocal Quartets by Schubert with pianist Raymond Beegle and the New York Vocal Arts Ensemble, with whom he performed across America for eight seasons. Notable solo credits include Bach's B Minor Mass, and Brahms' A German Requiem with the Bach Choir of Pittsburgh, Messiah, Haydn's Lord Nelson Mass, Bruckner's Te Deum, Gorecki's Beatus Vir, and Orff's Carmina Burana with the East Carolina University Chorale and Symphony Orchestra, and premieres of works by composer William Vollinger at New York City's Merkin Concert Hall. He has sung Mozart's Requiem and Vaughan Williams' Dona nobis pacem with the North Carolina Symphony, and Haydn's Lord Nelson Mass and The Creation, Rossini's Stabat Mater and Petite Messe Solenelle, Dvorak's Requiem, and Handel's Jephtha with the Choral Society of Durham. He performed as soloist and section leader for ten consecutive seasons with the Bermuda Choral Workshop. In 1997 he made his debut with both the Washington Summer Opera Theatre and Opera Delaware as Mozart's Figaro, and his Nashville Opera debut in their production of Gianni Schicchi. Mr. Kramar has performed with Texas Opera Theatre, Sarasota Opera, Santa Fe Opera, The Elysian Opera Group, in Faust with the West Virginia Symphony, and in a production of The Medium directed by Gian Carlo Menotti at the Philadelphia Academy of Music. His New York debut was in a gala concert honoring Ned Rorem at Alice Tully Hall.
A native of Maryland, Mr. Kramar received his undergraduate degree in vocal performance, as well as performers' certificates in both voice and opera from the Eastman School of Music where he was a student of Jan DeGaetani. He completed his graduate studies in opera at the Curtis Institute. His various awards and scholarships have included the first Helen Jepson Dellera Award from the Sarasota Opera, second prize in the prestigious Kneisel Lieder Competition, and two Apprentice Achievement Awards from the Santa Fe Opera. Mr. Kramar joined the voice faculty of East Carolina University School of Music in 1998, where he is an associate professor of voice, and also serves as chair of the Department of Vocal Studies. He was director of the ECU Opera Theater from 1998 until 2019. From 2005 until 2008 he served as interim Associate Dean of the College of Fine Arts and Communication at ECU.
He has taught voice and theater arts at the New York State Summer School of the Arts and was a member of the voice faculty of the Tennessee Governor's School for the Arts. Mr. Kramar was on the directing staff of the Chautauqua Opera from 2003 to 2008.